August 6, 2021
Dear Kundalini Yoga and Sikh Dharma Communities,
As mentioned in our May 14th communication, we have just completed a cycle of providing facilitated conversations to the global yoga community and wanted to use this update to reflect on these experiences and the transformative power of the Circle process. Since the middle of June, we have hosted sessions at the 3HO Summer Solstice gathering, IKYTA Members gathering, KRI Trainers' Summit, NKYTA Members gathering, and 3HO European Yoga Festival. In all these events we engaged the technology of Circle to create a safe container for participants to show up, humanize, and be together.
Acknowledging and honoring the complexity of feelings, perspectives, and needs that were present, our goal for each of these events was to create a safe container for participants to listen deeply, share authentically, and see each other clearly. The purpose was not focused on 'resolving' conflicts or problem solving, but rather practicing the art of dialogue aimed at fostering connection and empathy across diverse perspectives. Despite language and cultural differences, amidst the technological constraints of zoom, and across five separate events, some of the themes that emerged included:
people were hungry to talk, connect, and see/be seen;
within the structure of a safe container, people courageously risked being vulnerable with one another – humbly, authentically, and compassionately;
organizational and event leadership were engaged, receptive, and open to hearing and learning what change is needed;
hearts were opened and perceptions of polarization diminished; and,
hope and possibility for a path forward was expressed.
As your community continues to navigate through these complex and polarizing issues, we have been inspired at how naturally your community wades into Circles. There seems to be an innate trust that Circles will provide safe and trustworthy containers which can hold all of what your community is carrying right now.
We are aware that many of you have, now or previously, experienced participating in or facilitating circles. We invite and encourage you to utilize this simple and powerful tool to create safe spaces for each other so that you can continue showing up as your authentic selves and give voice and dignity to all that needs to be expressed.
​
Here is a Circle resource (click here) that we had previously shared as a tool to inspire and/or support you in holding space for one another. We also wanted to provide these reflection questions for your consideration as you think about your role in your community's healing journey.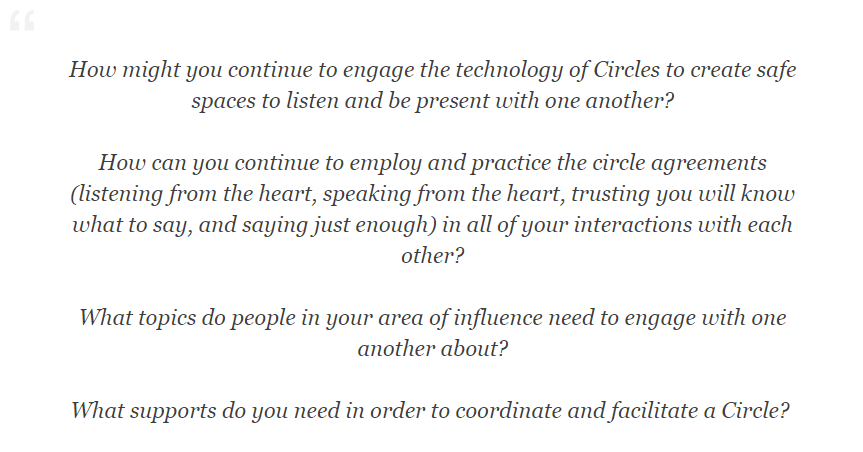 Compassionate Reconciliation Commission Update
​The Advisory Teams are on the cusp of identifying who their Core Compassionate Reconciliation Commission representatives will be, and we will then be working on scheduling the initial group development meetings sometime in late August to early September.
Upcoming Events
We will be offering several trainings available to the Kundalini Yoga and Sikh Dharma Communities in the coming year. Starting in September we will host 4-hour Introductory Restorative Justice trainings, and then in October we will be offering our first 2-day Circle Process training. We anticipate providing more information about these trainings soon!
Yours in kindness, compassion, and gratitude,
Catherine Bargen, Matthew Hartman, Cara Walsh, Aaron Lyons, and our extended Just Outcomes Team
Sign up here to receive regular updates from Just Outcomes about the Compassionate Reconciliation Project. By signing up you will receive updates about Compassionate Reconciliation only.