June 11, 2021
Dear Kundalini Yoga and Sikh Dharma Communities,
We are happy to provide this biweekly update on the Compassionate Reconciliation Project.
​
This week we want to share with you some of the inspiration we have gained from facilitator and author Adam Kahane. One of the central questions in his work is: "How is it possible for people who need to work together but think they can't…how do they do so and make a difference?" Kahane names that while collaboration is not always the right approach, with many complex situations it can be an important pathway to change. The graphic below demonstrates one way of envisioning when and how to discern that collaboration is a viable path forward (note that conventional collaboration includes the work of harmonious teams, and stretch collaboration involves radical co-creation that embraces discord). You can listen to a podcast related to leading transformational change by Kahane here.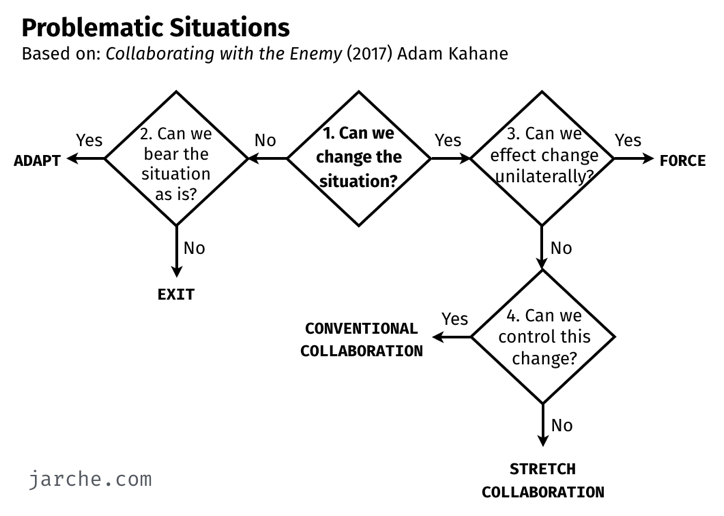 The work of the Compassionate Reconciliation Project (CRP) is ultimately for those who are interested in the challenging and transformative work of collaboration. Kahane reminds us that collaboration is not imperative, it is one of four options available (adapt, exit, force, collaborate). When people say: "We have to collaborate," that is not quite accurate…in fact, it is a choice based on each person's interpretation of the context and their desired outcome.  We are observing that many in your community see the need for stretch collaboration, and we will continue to accompany and assist you in mapping out the journey ahead.  Some of those next steps are explained below.
What's Next with the Compassionate Reconciliation Project?
In our last communication on May 28, we outlined some of the events we will be presenting at, including Solstice, the KRI Trainers' Forum and the European Yoga Festival.
These events coincide with the focus of our activities over the next year with the Compassionate Reconciliation Project, which include:
​
building the capacity of the Compassionate Reconciliation Commission (CRC) and the wider community for Compassionate Reconciliation;
designing, planning and implementing concrete initiatives that pave the way for restorative justice processes; and,
responding to and addressing the pressing conflict and justice needs of the community related to the CRP.
We will continue to let you know the details of these activities as they unfold. Our main priority in the coming weeks is to assist with setting up the core team of the Compassionate Reconciliation Commission, which (as we have written about previously) will be a group of people with diverse perspectives who represent many different parts of your communities. The intent is that the CRC will then, with our assistance and support, begin to take a stronger lead on the activities of the Compassionate Reconciliation Project.
Monthly Information Sessions
For community members interested in learning more about the Compassionate Reconciliation Project, Just Outcomes will be offering a series of information/Q & A sessions. These monthly sessions will be held at different times of day to accommodate various time zones. Following is the information for our first session.
When: Jun 17, 2021 8:00 AM PT/3:00 PM GMT
Click here to register in advance for this meeting
After registering, you will receive a confirmation email containing information about joining the meeting.
The following information/Q&A session will be scheduled for Monday, July 5th at 4 p.m. PT.
Yours in kindness, compassion, and gratitude,
​
Catherine Bargen, Matthew Hartman, Cara Walsh, Aaron Lyons, and our extended Just Outcomes Team
​Sign up here to receive regular updates from Just Outcomes about the Compassionate Reconciliation Project. By signing up you will receive updates about Compassionate Reconciliation only.